About Dog-Eared Publications
The home of Dog-Eared Publications is a perfect place to create children's nature books! Perched on a hilltop in Middleton, Wisconsin, we are surrounded by wild meadows and oak forests where deer, wild turkeys, and even bobcats leave their marks.
Our Goals:

to turn young readers into environmentally aware earth citizens
to foster a love of science and nature in the new generation
How?
By capturing:

first, their interest
then their hearts and minds with interactive games, mysteries, puzzles, and stories
How did Dog-Eared Publications get its name and logo?
We choose a fun name that reflects our love for both books and dogs. The term "dog-eared" is used to describe a page that someone has turned down to mark his or her place in a book, something we often find in well-loved books. Since we raise golden retrievers, the logo is a golden retriever with its ear showing.
The Story of Dog-Eared Publications and its "Discovering" books for children: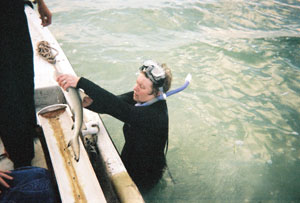 Nancy Field, publisher, author
and part-time shark radio-tagger
The seeds for the book series were sown back on the first Earth Day in 1970. That year, publisher Nancy Field ("Nan") organized the first Earth Day events at South Dakota State University in Brooking, S.D., where she was working on a master's degree in wildlife biology. Having one day a year to celebrate and call attention to the environment was a good start, but Nan wondered how to reach more people all of the time. Children's books seemed to be the perfect place to start.
As proof, Dog-Eared Publications today is proud of their many successful titles.
Awards and Recognition
Discovering Black Bears
won a Mom's Choice Award
and a Finalist in Foreword Magazine's Book of the Year in both Nature and Hobbies.
Discovering Sharks and Rays
took the prestigious 2004 Ben Franklin Award for Best Juvenile-Young Adult Nonfiction.
was a Finalist in ForeWord Magazine's Book of the Year Award competition. was named one of the "Hottest Products of 2004" by iParenting Media.
Leapfrogging through Wetlands
won a Ben Franklin Award in category of science/environment
in addition to Parents Media and Parents' Choice awards.
Ancient Forests
Winner of a Parents' Choice Award
Discovering Earthquakes
Winner of a Parents' Choice Award

About the Publisher:
Nan Field was born Nancy Hayden in Manitowoc, Wisconsin. She has a

B.S. in biology and science education from the University of Wisconsin
M.S. in wildlife biology from South Dakota State University
Nancy taught biology and environmental science at Bellevue Community College, Western Oregon State College, and Oregon State University. Nancy is married to Donald R. Field, a forestry professor emeritus at the University of Wisconsin, Madison. They have three children, Peggy, Andrew and Don and five grandchildren, Kendall, Reed, Robby, Ian and Alec.